Introduction

1. Fiber Reinforced Calcium Silicate Board is a 100% Non-asbestos building material, which is made by cellulose, sand, cement, mica and others raw material.
2. Characteristics:
1.Light weight with medium density;
2.Good fireproofing and thermal insulation;
3.Fire - resistant limit reaches 1h or more( if it is on fire, produces no smoke)
6.Undamaged by insects and rodents;
8..Good sound absorption( insulates against sounds of up to and over 40dB)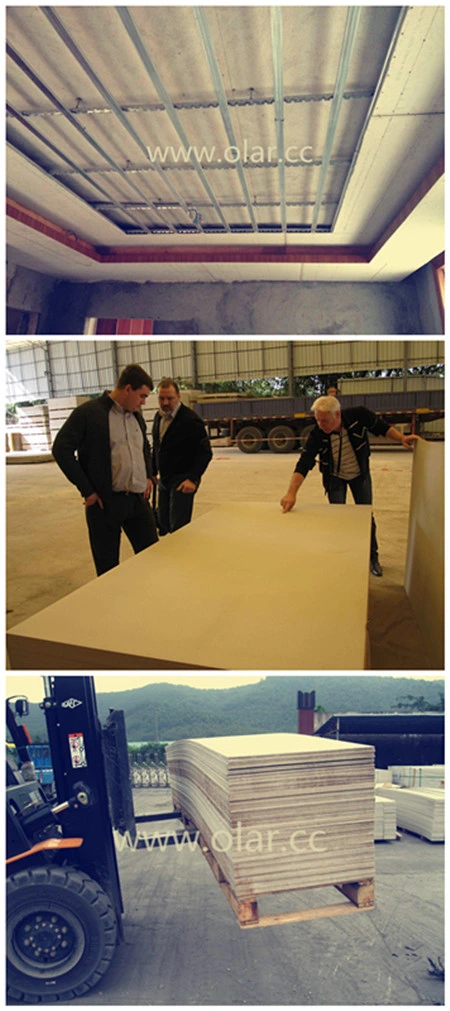 3. Application:
3.5~6mm is used for the ceiling ,
8~12mm is used for partition of the buildings.
15~30mm can be used for internal floor backer with some designed steel structure under special application requirement.Such as house,apartment,office buildings, residential buildings, commercial buildings, schools, airports, railway stations, research institutions, cinemas, hospitals, gyms and KTV rooms, etc.
4. Our certificate: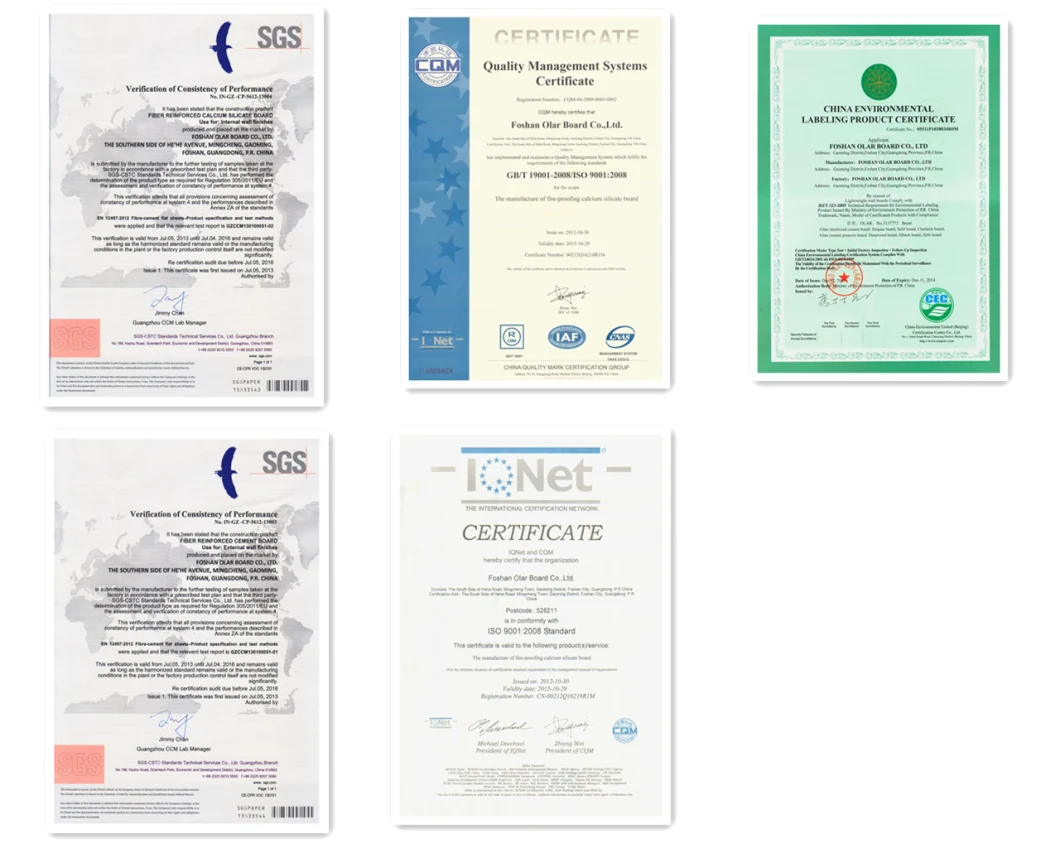 5. Company profile:
Foshan Olar board Co.,Ltd. is a manufacturer. It is established in 2005, located in the southern side of He'he Avenue, Mingcheng, Gaoming, Foshan, Guangdong, China.
The products of Olar have taken 90% domestic market share. What is more, they have been delivered in large quantily to many European countries like Italy, Sweden, Norway, Russia, UK, Spain, Poland and many other countries in Southeast Asia and Middle East
The reliable quality and reasonable price of the products have earned us recognition and well favor from the customers in both domestic and overseas market.
Calcium Silicate Board with 100% Asbestos Free

Specification

Standard Specification: 1220/1200*2440/2400/3000*3.5~20MM

Tolerance:Length/Width: ±/3mm;
Thickness: ±/0.3mm;
Edge Squareness : ≤3mm/m;
Diagonal difference: ≤4mm

Appearance

Surface:Un-sanded / Sanded

Edge:Square / Recessed

Physical Property

Density: 1200~1300KG/M3 (Medeium Density)

Bending Strength: Cross: 10~12MPa; Parallel:6~8MPa

Moisture Movement: ≤ 0.25%

Water Absorption: 35~38%

Water Contain: ≤ 10%(Under EMS condition)

Thermal Conductivity: ≤ 0.25w/(m@k)

Non-combustibility: GB 8624-2006 Grade A1, BS 476-4 Grade A, CE EN 12467:2012 Grade A1

Excellent Characteristic

Incombustibility,
High Bending Strength,
Thermal Insulation,
Fire Resistant,
Sound Insulation,
Moisture-proof,
Shock Resistance,
Durability,
Long service life, etc.

Application

3.5~6mm: for Interior Ceiling;
8~20mm: for in Interior Partition.

Products Warranty

More than 20 years
Any questions ,Pls feel free to contact with us:
Contact person: Yuan Chen