Product Description
Are you still working in dirty and wet construction site, moving many heavy machines to the site?
Are you still waiting for more than half a year before you can move inside to your new house?
Are you still paying high salary to the workers and still unhappy about the final work? Are you still...?

You are so lucky to be here and get to know the best substitute to traditional concrete wall, it is called eps cement sandwich panel.
Comparison with other wall materials, this one is more stronger and longer life span with many advantages and wide usages.
Firstly, let me tell you the what exactly is it and its structure.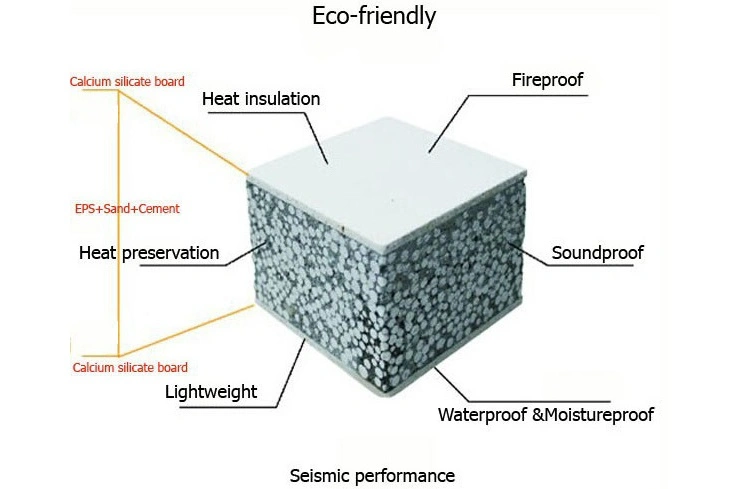 ZJT EPS (Expanded polystyrene board) wall Panel is composed of exterior panels and interior core filling, to form a non-load-bearing light-weight composite wall panel.
The exterior panels on both sides are 5mm calcium silicate board, and the middle core is filled with polystyrene beads & cement or ceramsite, polystyrene beads & cement.


Secondly, the following is the specifications of our eps cement sandwich panels.





Size of ZJT Sandwich Panel
Specifications

Thickness

Length

Width

Reference Weight

Product allows tolerance

50 series

50mm

2270mm

2440mm

2700mm

3000mm

610mm

46 ±5

Length ±5
Width ±2
Thickness ±1
Flatness ±1

60 series

60mm

50 ±5

75 series

75mm

60 ±5

90 series

90mm

65 ±5

100 series

100mm

72 ±5

120 series

120mm

83 ±5

150 series

150mm

100 ±5

180 series

180mm

120±5
The sandwich panel size can be customized according to the needs of users' requirements
Index of the wall panel

Advantages & Usages

Thirdly, it is very important for you to understand all the advantages of panels.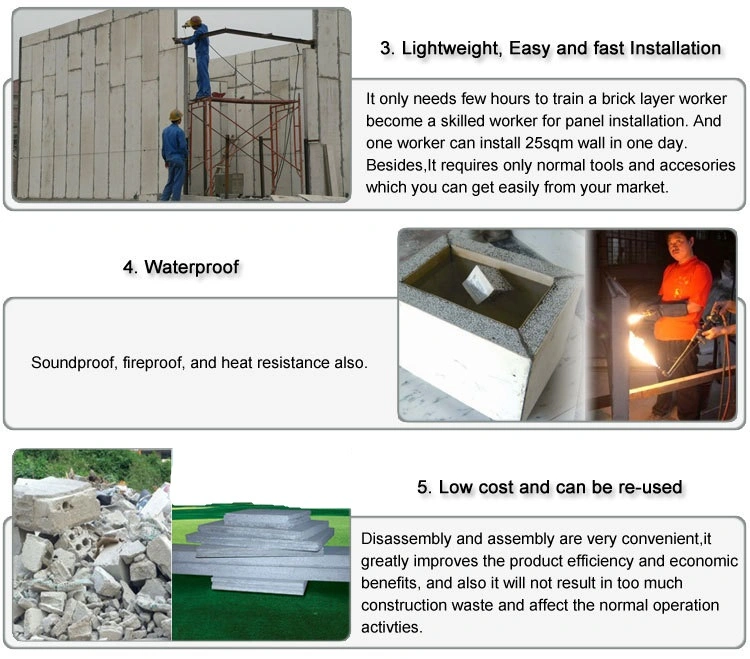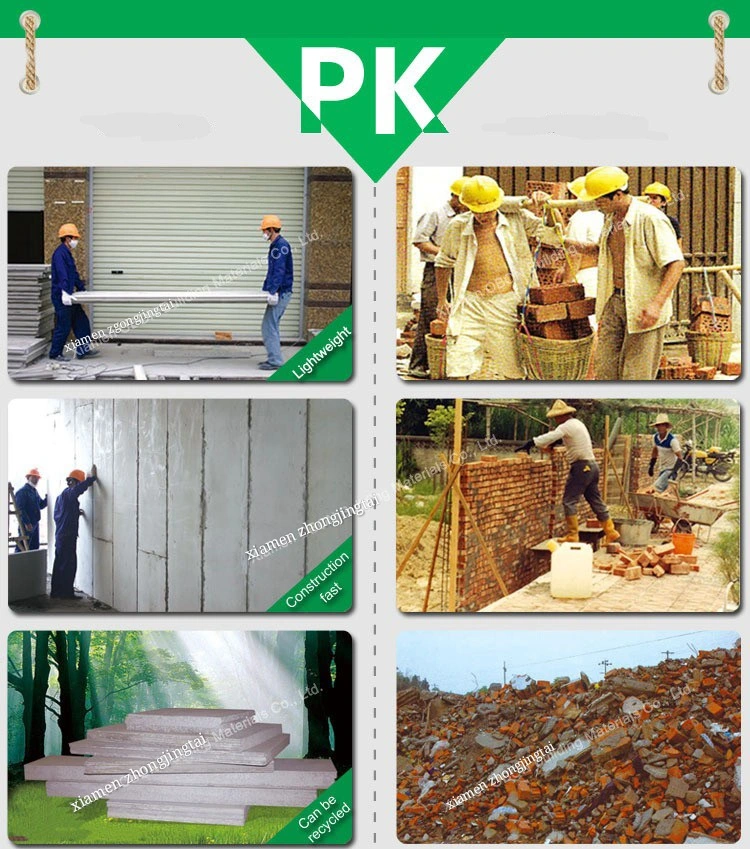 Forthly,i will show you the wide usages of our eps cement sandwich panels.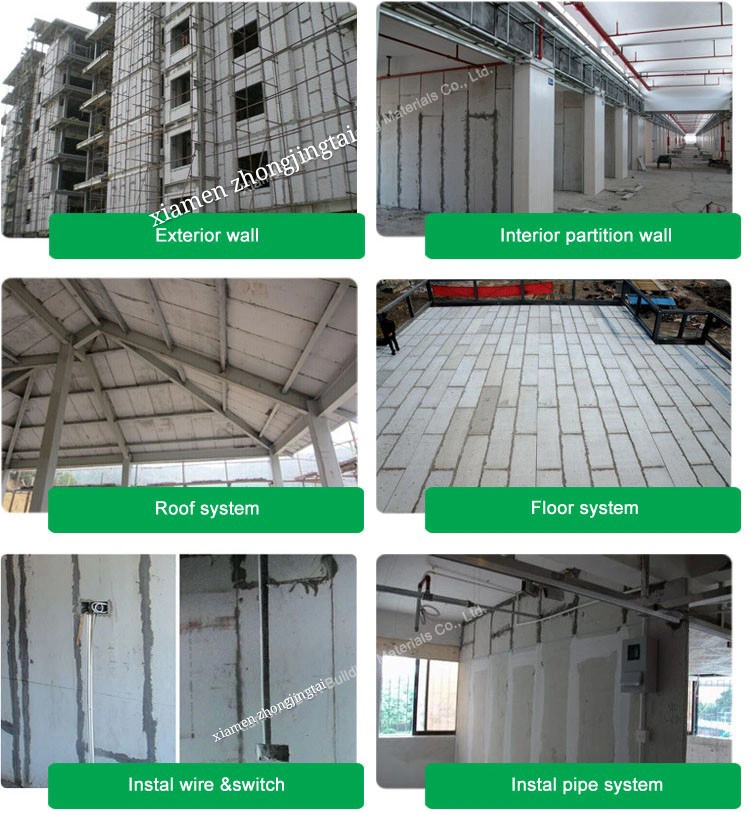 FAQ
1.Are you a manufacturer or trader?
Factory+trade(mainly factory, at the same time,we operates other related products)
2.Can we visit your factory?
Sure,welcome at any time,seeing is beliving
3.What's the MOQ of trial order?
No limit,we can offer the best suggestions and solutions according to your condition
4.Which payment terms are you accept?
T/T,L/C,etc. are available for us
5.After an order is placed,when to deliver?
7-15days
6.How to solve the quality problem?
If the products are not conform to customer samples or have quality problems,our company will be
responsible to make compensation for it

Company Information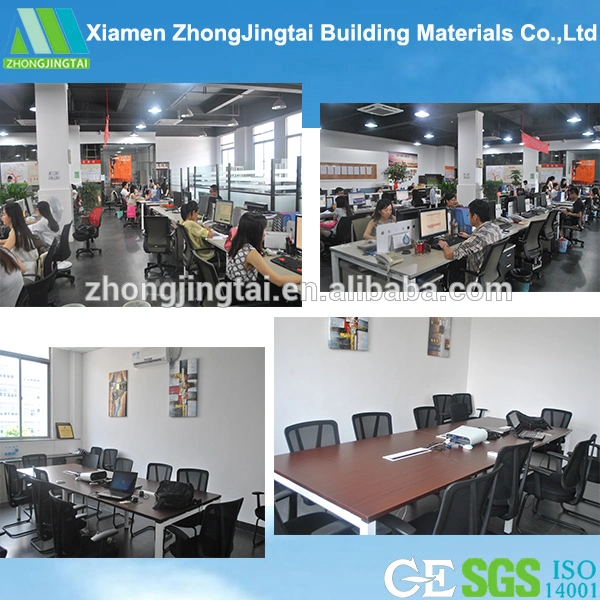 XIAMEN ZHONGJINGTAI BUILDING MATERIALS CO., LTD. is a professional high-tech research and development company producing new wall materials, machinery and equipment development, technology production and promotion of product applications. The company is situated in the charming Xiamen city, with the convenience of water and land transportation and only ten minutes from the airport.
We adhere to the "quality first, win-win cooperation" business philosophy and provide our value customers with strong technical support and package services. With our top quality products and credibility, we pledge to collaborate with our partners to thrive together while meeting the demands of the market. We are committed to contribute these superior and environmentally-friendly wall materials to the society.


Contact Information